I
woke this morning thinking I had nothing to write about. My creativity as dry as my flower pots baking in the hot Houston sun. I drug myself out of bed wondering if today would be different than yesterday?
I had read signs earlier in the week that today our local high school band would be marching through our community, starting in our neighborhood. I gave myself a list of reasons why I should not go to watch. I purposely took too much time getting ready & finding the dogs leash. But something kept pushing me out of the house. As I opened the kitchen door, my ears picked up the constant beat of the base drums. I grabbed our dog & ran. A 50's woman, profusely sweating, carrying a hot dog & breaking into a run is a comedy skit in itself. I was looking hot, not to be confused with haute.
There are two constants in life that can choke me up more than rag weed & that is 1.
bagpipes
, 2. the sight & sounds of a
marching band
. Don't call in the psychiatrist quite yet; I promise both have good reason.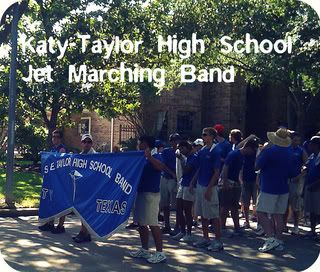 It was 10 a.m. & already a humid 96F. As I carried (yes carried) the dog through our tree lined neighborhood, I was thrilled to witness so many folks out on the street. Band parents & music lovers; on-lookers with beards, babies, cute dogs, & those like me who can't hold a foot still at the sound of a good tune.

What quickly became remarkably clear were people were yes listening, but also visiting. It was as if we'd all submerged from our summer cocoons shying from the harsh sun. I heard a, "
I didn't know you had two children
", to a "
I haven't seen you all summer
".
Folk's were catching up, laughing, and enjoying the music all because this group of fine young musicians, parents & their music teacher, were willing to share themselves with our neighborhood on this day. It brought back what is so right about the simple things in life.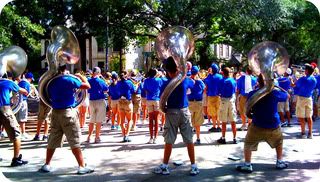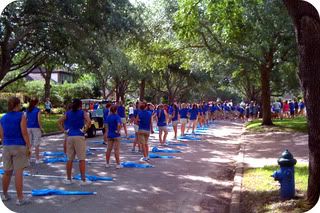 I am proud that the simplest of
treasures
in my book are never taken for granted. I'd take good music, good friends & gut-busting laughter over all the Gucci on Rodeo Drive any day. That is unless I have a photo shoot that day, then the Gucci may come in handy. No photos shoots on the horizon...so it all works out in the end.
All may be good, but
Emily Post
would give me two slaps on the hand for neglecting to properly thank a fellow blogger for her kindness and friendship.
Thank you
Therese of
La Dolfina
&
Il Tuo Tesorao
. I was very fortunate to win Therese's first giveaway during her launch of her newest blog
Il Tuo Tesoro
. Therese the woman is a rare gem. She is a hunter & a gatherer of magnificent treasures that she unearths at flea markets & a like. Both of her blogs are such a joy to read but what I quickly discovered is that Therese shares of herself. Her humor, kindness, support, and her friendship. For all of those you can never put a price, only a true value.
if you have not, please visit Therese's
blogs
.
Thanking you Terri just does not seem good enough.
If I was not fortunate enough after receiving Terri's wonderful prize, I received an email this week that I had won the
Belle Inspiration
giveaway from very chic & gracious,
Mimi Bleu
of
Bonjour Romance
.
Mimi's motto is, "Put a little ooh la la in your life." Every time I read her blog I get just that. Mimi is on the heels of launching her first e-magazine, '
Belle Inspiration'
to be released in September in a digital flip-page format.
Each issue of
Belle Inspiration
will profile practical & versatile ideas coupled with beautiful images of far away place, unique boutiques, wallet-friendly solutions for interiors, food & fashion. Subscribe
here
for yourself & for a friend and fellow Francophile.
I not only won a years subscription to Belle Inspiration but I also won this very fun book by the talented illustrator Elaine Bliss. Thank you Mimi, you are truly a woman to admire and marvel at. Oh la la indeed - for today, it's good to be deb of dumbwit tellher.
{go forth and live responsibly}
laugh, love & listen